Thanks to Temple Grandin and the American Meat Institute for producing this video on humane animal handling at a large meat processing plant in the United States.
In the video below, skip ahead to 01:45 if you don't need to see the preview of Dr. Grandin's accomplishments.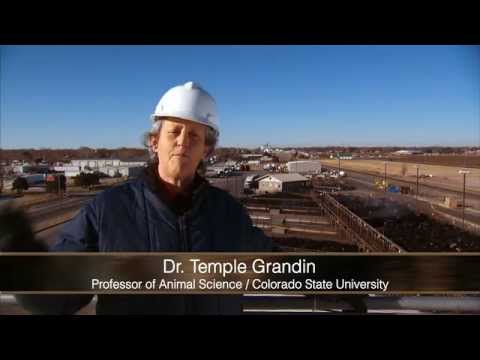 AMI, Temple Grandin release video on humane slaughter
By Rita Jane Gabbett on 8/24/2012
The American Meat Institute and animal handling expert Temple Grandin have released a video that depicts and explains the cattle slaughter process at a large (unnamed) plant.
While its release coincides with this week's temporary closure of Hanford, Calif.-based Central Valley Meat over humane handling concerns, the video has been in the works for some time, explained AMI Senior Vice President, Public Affairs and Professional Development Janet Riley in a blog that includes the embedded video.
"In the video, Dr. Grandin talks about many aspects of handling and slaughter and she specifically explains that after animals are stunned to make them unconscious prior to slaughter, a step that is required by law, it is normal to see some uncoordinated movement, especially of the unrestrained rear leg. She notes that this does not mean that an animal is conscious, and much research will support this," writes Riley.
"We were finishing the video when this week an activist group released an undercover video that was taped surreptitiously in a meat packing plant alleging inhumane treatment of cattle. Coincidentally, the undercover video claimed that stunned animals were conscious based upon reflexive moments – the very issue Dr. Grandin had just explained on tape. We moved quickly to finalize our video to help the public better understand and interpret the images in the undercover video," Riley noted.
The video, narrated by Grandin, takes the viewer from live cattle being unloaded from the truck through the stunning and slaughter process and comes with this warning: "We do want to caution viewers that the scenes are graphic at some points. In an effort to provide true transparency, we are shining a light on the complete process."